Skip to Main Content
It looks like you're using Internet Explorer 11 or older. This website works best with modern browsers such as the latest versions of Chrome, Firefox, Safari, and Edge. If you continue with this browser, you may see unexpected results.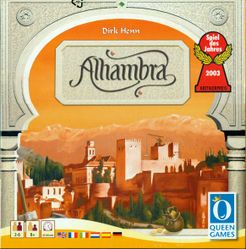 In Granada, one of the most impressive building projects of the Middle Ages has begun: the construction of Alhambra. A palace, fortress, and a small city — all-in-one — Alhambra is made up of the world's most beautiful gardens, pavilions, chambers and towers. Compete against your opponents to build the greatest and most impressive Alhambra.