Skip to Main Content
It looks like you're using Internet Explorer 11 or older. This website works best with modern browsers such as the latest versions of Chrome, Firefox, Safari, and Edge. If you continue with this browser, you may see unexpected results.
Machi Koro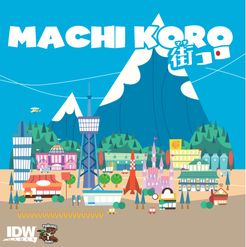 Machi Koro is a fast paced game of city building. Two to four players starting with only two establishments will roll dice to earn income, purchase more Establishments and hope to be the first to build their city's Landmarks. Each Establishment and Landmark has a special ability that activates when a certain number is rolled on the die, so you can never be certain whether you will be helping yourself or your opponents. The first player to build their four landmarks wins!